2019 Fall/Winter
UK
UNIQLO LifeWear Day 2019:
The Art and Science of LifeWear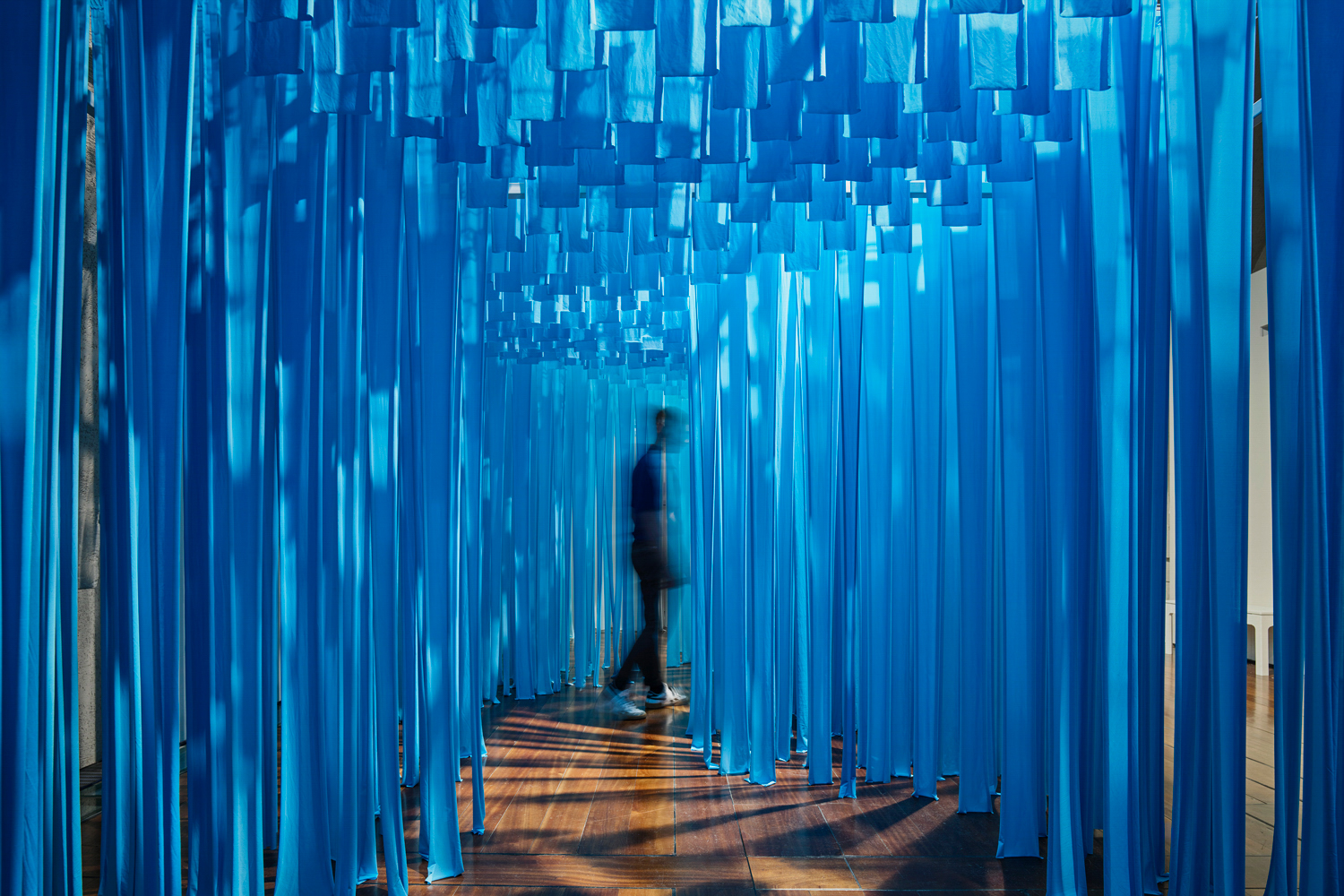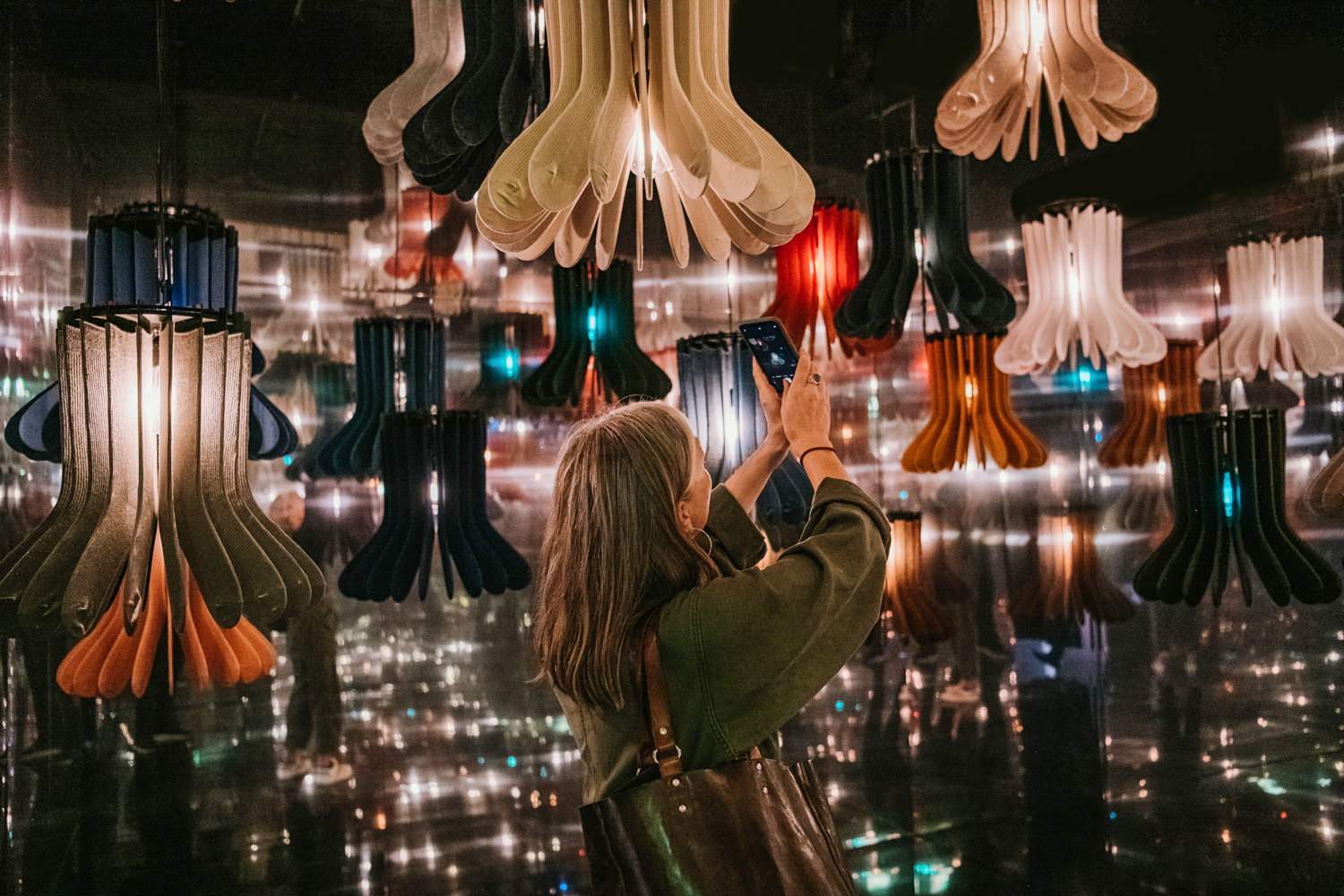 In September 2019, UNIQLO hosted its global annual event at Somerset House, a unique part of London's creative and cultural scene.
Taking place in the U.K. during London Fashion Week, the exhibition was a large-scale immersive showcase of LifeWear; the UNIQLO philosophy that expresses simple, quality, everyday clothing with a practical sense of beauty designed to make everyone's life better.
Created together with Pentagram, this year's exhibition immersed the visitors in the story of UNIQLO's iconic products and proprietary technologies through a series of experiential and experimental installations.
Accessed through a special entrance facing the River Thames, the exhibition comprised of twelve different areas spanning the iconic halls of the two-level Embankment Galleries. Upon entry, you slipped into a tour through 36 years of UNIQLO history, followed by a series of installations constructed with UNIQLO's clothing, booths presenting the artistry and science behind the revolutionary items such as AIRism and HEATTECH, exhibits on the UT Graphic T-shirt Collection and the craftsmanship behind our wares, and spaces displaying the stylings for the 2019 Fall/Winter season and introducing their Global Brand Ambassadors.
The details of this exhibition can be found online at www.uniqlo.com/lifewearday/.
Branding
Event Design (in collaboration with Pentagram)
Project Management
2018 Fall/Winter
Sweden
UNIQLO Stockholm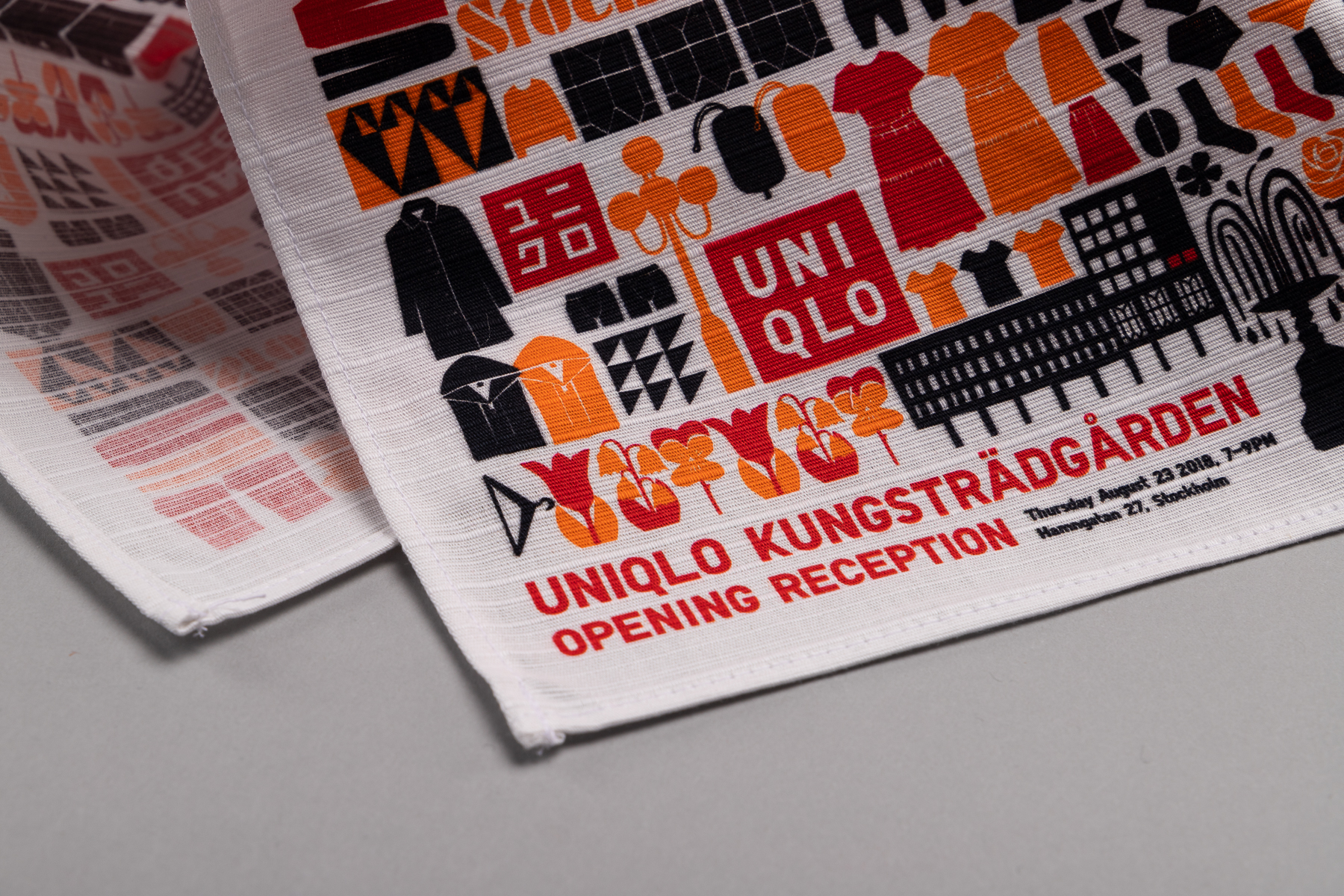 On 24th August 2018, UNIQLO opened its first store in Sweden, located in the heart of Stockholm adjacent to Kungsträdgården, one of the most historical and popular areas of the city. The store occupies the building known as Sweden House (Sverigehuset), which was designed by Stockholm-born Sven Gottfried Markelius, one of the most important Swedish modernist architects.
2018 also marked the 150th anniversary of diplomatic relations between Sweden and Japan. As a brand with deep respect and appreciation for local culture, a special collaboration with Lotta Kühlhorn, a local Swedish graphic designer and illustrator, adorned the campaign to celebrate the store opening on this significant year.
Kühlhorn's iconic style of collage included illustrations featuring UNIQLO's products, elements from Kungsträdgården, and Sweden House itself, all produced in three colourways.
Shown here are some of the designs created for the store opening campaign:
sensu
(folding fan) handed out to all the customers on the first day, the invitation to the opening reception (a
furoshiki
-style invitation inside a
origami
-style envelope), cashmere gift box set, exclusive shopping bags, and
masu
sake cups for the reception party.
Branding
Product Design
Packaging Design
Print & Digital Invitations
OOH & Print Advertisements
2018 Fall/Winter
Sweden
UNIQLO Stockholm x HASAMI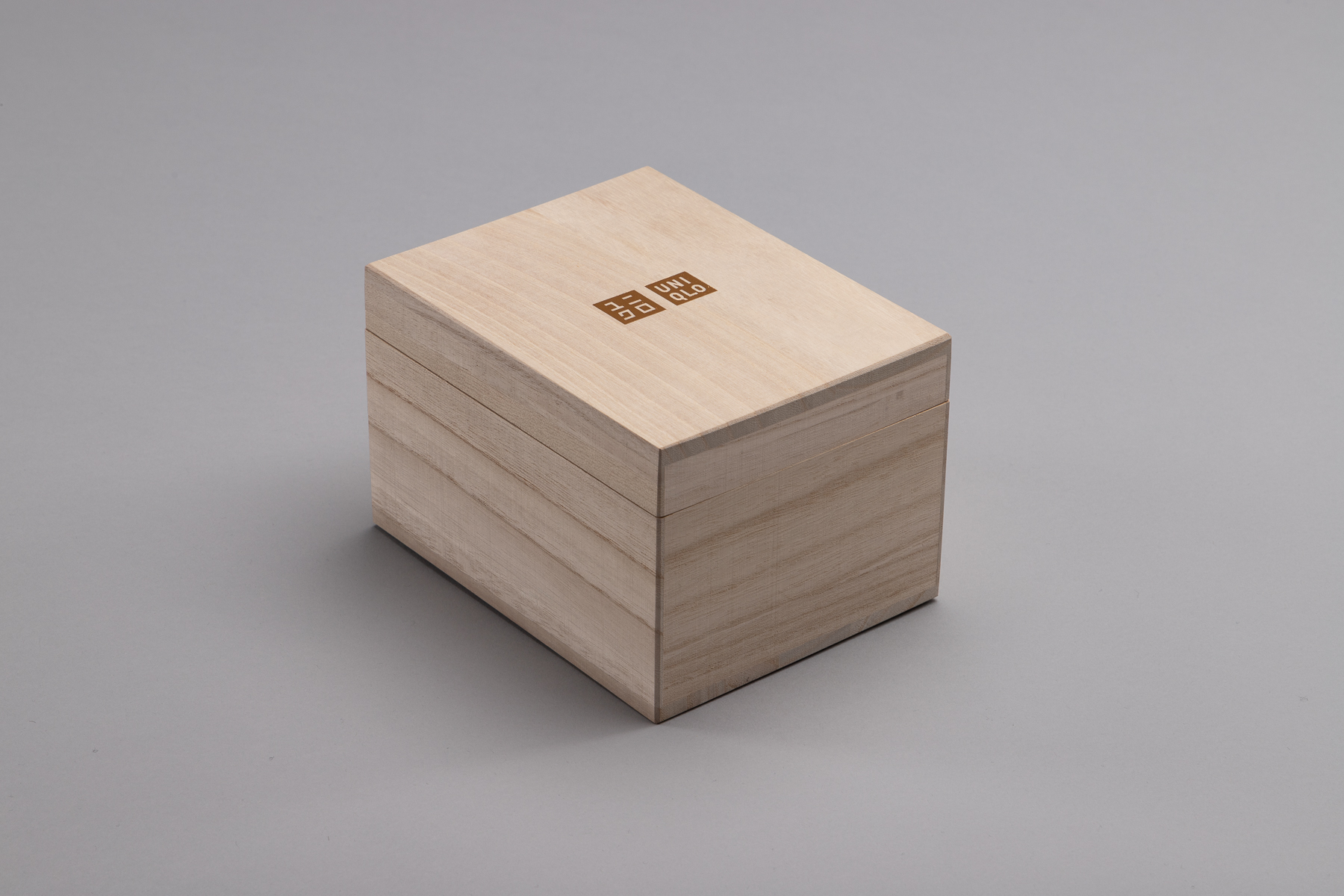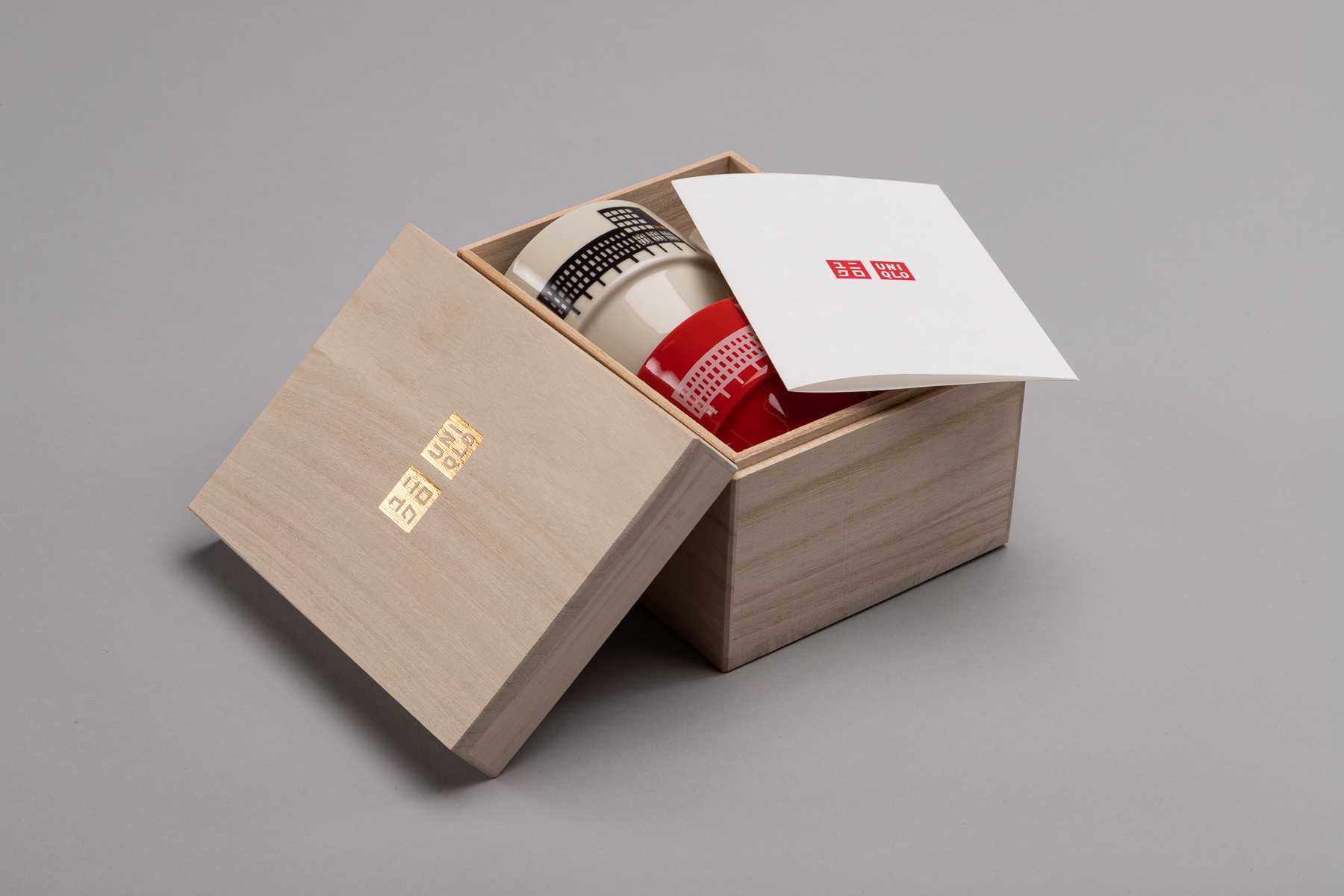 To celebrate the opening of the first store in Sweden, an exclusive
Hasami-yaki
gift set was produced in collaboration with porcelain maker HASAMI.
The idea of coffee cups came from the concept of fika; a tradition deeply embedded in Swedish culture, where friends and colleagues gather to take a break and socialise, often with a cup of coffee or tea and a little something to eat.
As a gift of gratitude to the Swedish partners and stakeholders, a pair of coffee cups were created from traditional Hasami porcelain.
Hasami-yaki
originated 400 years ago in the town of Hasami, one of the foremost pottery districts located in Nagasaki prefecture in Japan. It is known for its simple design and indispensable, everyday items, and has been recently gaining popularity.
In the Japanese culture the combination of red and white represents celebration, and as part of the opening branding, the illustration of Sven Markelius' Sweden House on Kungsträdgården, drawn by Lotta Kühlhorn, was glazed on the side of the cup.
Branding
Product Design
2018 Fall/Winter
Global
HANA TAJIMA FOR UNIQLO 2018 Fall/Winter:
Collection Visuals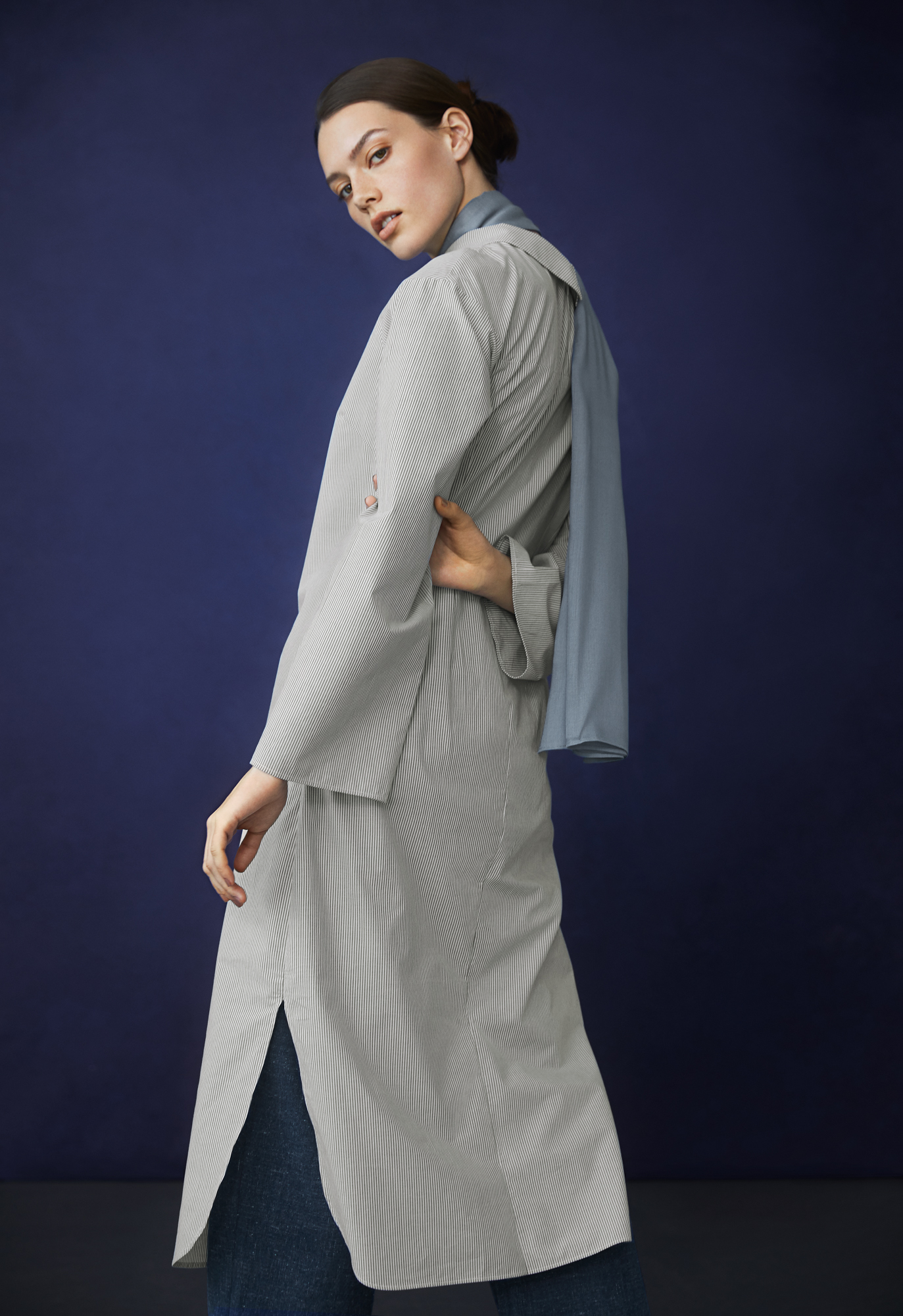 "Transitions"

The 2018 Fall/Winter collection was inspired by the various transitions encountered and experienced, from the passage of the seasons, to changes throughout the day. The collection pieces gently reflected this idea through the subtle gradations of colors, soft contours, and flowing silhouettes of the elegantly considered pieces.

Using this idea of "Transitions" also for the key concept for the campaign visuals, a dark three-colour palette was used to create the atmosphere of the transitioning seasons and moods.

Involved from creating the visual concept with Hana Tajima herself, to the art direction of the key visuals (shown here) and marketing assets (below). The visuals and assets produced not only need to represent and communicate the brand values of the collection, but also to creatively solve business requirements and challenges posed by the market.


Art Direction
Branding

2018 Fall/Winter
Global
HANA TAJIMA FOR UNIQLO 2018 Fall/Winter:
Marketing Campaign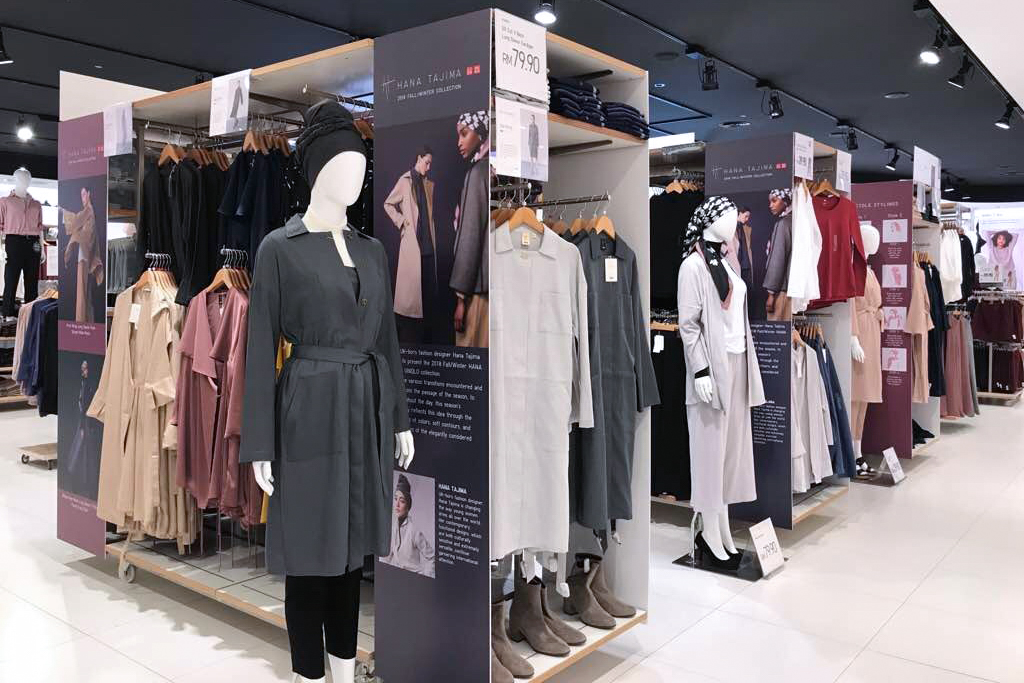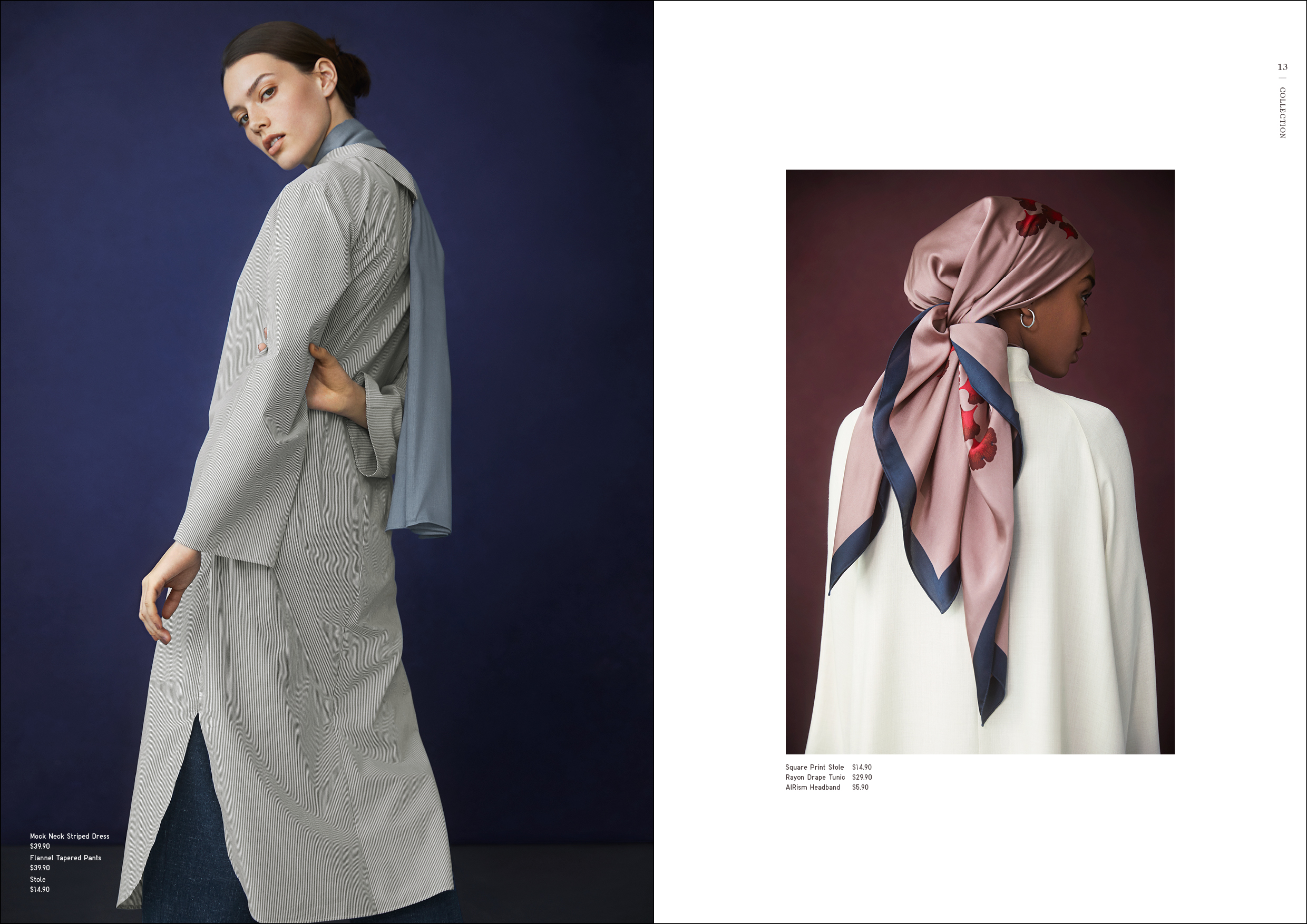 As the Art Director of the HANA TAJIMA FOR UNIQLO collection, responsibilities include designing and directing all the marketing assets used in all the global markets.

Shown here are some of the creative assets created including print materials, out-of-home advertisements, in-store promotional materials, website and digital marketing assets.

Aside from the creative production, one of the key responsibilities is to communicate the collection's brand values and the season's creative concept to all the teams and departments involved from merchandise planning to the stores, to ensure a strong brand consistency throughout the world.


Art Direction
In-Store Communication - Posters & Panels
Collection Leaflet
OOH & Print Advertisement
Website
Digital Marketing - Creative Direction